The Razer Blade Pro 17 is a figurative — and literal — heavyweight in the high-performance notebook stakes. We put the gaming notebook up against Apple's 16-inch MacBook Pro to determine which is the best for professionals.
Razer's notebook lineup is, at face value, a gamer's dream notebook. Offering high performance for on-the-go gameplay, the Blade range also offers niceties that gamers appreciate, such as RGB lighting, as well as combining a top-of-the-line GPU with a fast processor.
It's this latter element of performance that also makes the Razer Blade lineup a good choice for professional users who need that processing power. With a refresh of the lineup in May, Razer's range is now even more tempting to potential users, thanks to its use of 10th-generation Intel Core processors and more recent GeForce RTX GPUs.
The crossover of needs for gamers and professionals means that, despite the Razer branding and marketing, the Blade range does have its uses in both potential markets, and makes it a serious competitor to the MacBook Pro despite its appearance.
Specifications
Razer Blade Pro 17
16-inch MacBook Pro (2019)
Starting Price
$1,999.99
Available at Razer
$2,399
Lowest 16-inch MacBook Pro prices
Dimensions (inches)
0.78 x 15.55 x 10.24
0.64 x 14.09 x 9.68
Weight (pounds)
6.06
4.3
Processor
9th-generation 2.6GHz 6-core Intel Core i7,
10th-generation 2.3GHz 8-core Core i7
9th-generation 2.6GHz 6-core Intel Core i7
9th-generation 2.3GHz 8-core Intel Core i9
9th-generation 2.4GHz 8-core Intel Core i9
Graphics
Intel UHD Graphics 630
Intel UHD Graphics
Nvidia GeForce RTX 2060
Nvidia GeForce RTX 2070 Max-Q
Nvidia GeForce RTX 2080 Max-Q
Nvidia GeForce RTX 2080 Super Max-Q
Intel UHD Graphics 630
AMD Radeon Pro 5300M 4GB
AMD Radeon Pro 5500M 4GB
AMD Radeon Pro 5500M 8GB
RAM
16GB, Upgradable to 64GB
16GB, 32GB, 64
Networking
Wi-Fi 6
Bluetooth 5.0
2.5Gb Ethernet
802.11ac Wi-Fi
Bluetooth 5.0
Storage
512GB, or 1TB, Upgradable
512GB, 1TB, 2TB, 4TB, or 8TB
Display
17.3-inch 1920×1080 144Hz, 240Hz, 300Hz,
17.3-inch 3840×2160 120Hz touchscreen
16-inch 3072×1920 60Hz LCD with IPS and True Tone
Ports
Thunderbolt 3
USB-C 3.2 Gen 2
Three USB 3.1 Type-A ports
RJ45 Ethernet
HDMI 2.0b
UHS-III SD Card Reader
3.5mm headphone jack
Four Thunderbolt 3 ports
3.5mm headphone jack
Biometrics
Windows Hello
Touch ID
Touch Bar
No
Yes
Battery
70.5Wh, 230W charger
100Wh, 96W USB-C charger
Razer Blade Pro 17 versus 16-inch MacBook Pro – Displays
As the names suggest, there is a difference in terms of display size: Apple opts for a 16-inch display while Razer uses a 17.3-inch version.
In Apple's case, the 16-inch MacBook Pro has a resolution of 3,072 by 1,920, a pixel density of 226 pixels per inch, the ability to push out 500 nits of brightness, and is equipped with Wide Color (P3) support. On the more exotic end of things, the display also has True Tone, Apple's technology for automatically adjusting the screen's colors to be warmer or cooler, depending on changes in the environment.
On the Razer side, there's quite a lot of variation on offer, depending on the selected model and resolution. For a start, there are two resolutions available: Full HD and 4K.
For the Full HD model, there's a base resolution of 1,920 by 1,080, giving it a low pixel density of 127 ppi. While it provides 100% sRGB color support, it is also let down by a reduced brightness of only 300 nits.
Where the display excels is that Razer offers three versions of the Full HD model with different refresh rates, all higher than Apple's display. The standard operates at 144Hz, with further options including 240Hz and 300Hz.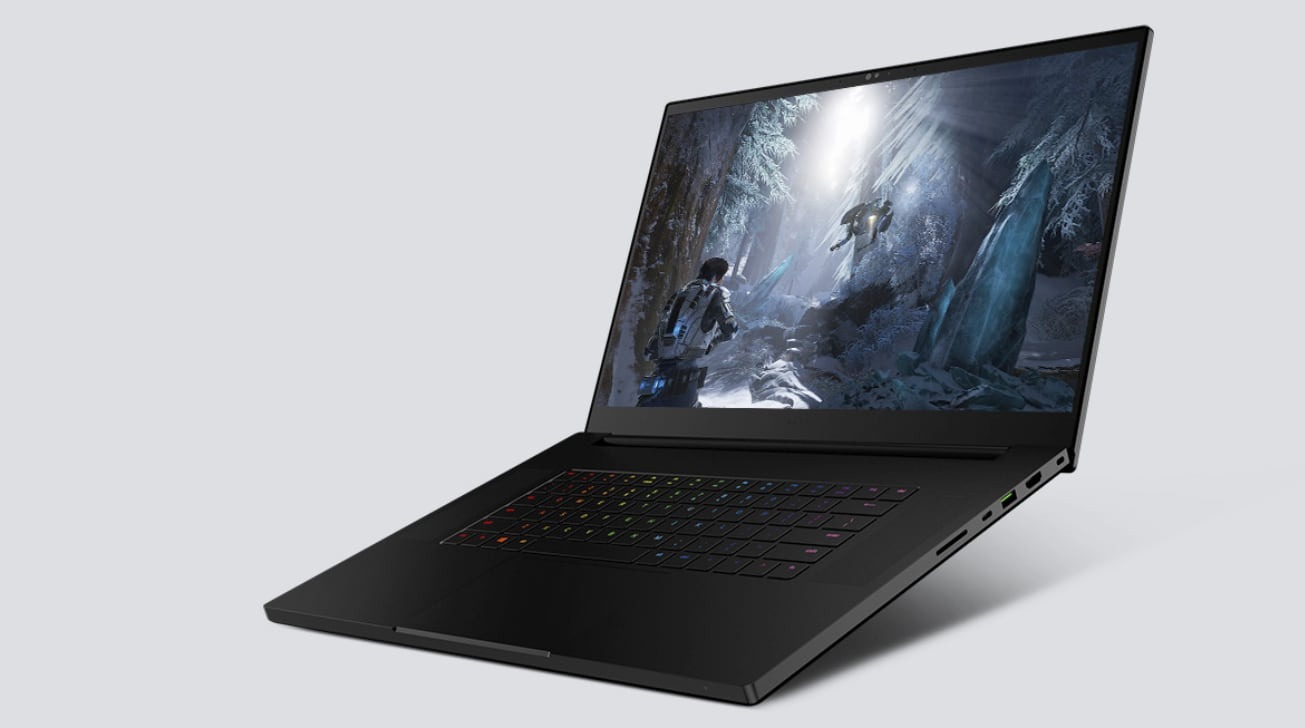 The 4K and Full HD Razer Blade Pro 17 displays have the same dimensions.
The 4K-resolution display is higher than the MacBook Pro at 3,840 by 2,160, giving it a pixel density of 254ppi. It's also operating at a higher refresh rate of 120Hz, and it is a touchscreen, giving something Apple doesn't offer in a notebook short of equipping an iPad Pro with a keyboard.
But even the 4K screen has its downside, namely, it offers only 400 nits of brightness. That's better than the Full HD screen, but still far from the MacBook Pro.
Apple also opts for a slightly different aspect ratio, with it using 16:10 compared to the Razer's conventional 16:9. This does mean that Apple offers proportionately more vertical space than the Blade does, which arguably is better for working.
Razer Blade Pro 17 versus 16-inch MacBook Pro – Size and Weight
The 16-inch MacBook Pro is a much more portable notebook than the Razer Blade Pro 17, and for quite a few reasons.
For a start, the larger Razer display size means the Blade is longer and wider for the older models, at 15.55 inches by 10.24 inches for the older generations and 13.98 by 9.25 inches on newer versions, against the MacBook Pro's 14.09 inches by 9.68 inches. Apple has the thinner device at 0.64 inches against 0.78 inches.
This puts the MacBook Pro in the middle of the three possible footprint sizes, while still being the thinnest of the lot. Razer did its part by using 6mm bezels at the sides of the display to help curtail the extra mass despite having the larger screen, but there's only so much you can do to prevent size creep when the screen itself is physically larger.
The most damning element in physical terms is the weight difference. The MacBook Pro weighs in at just 4.3 pounds, while Razer's Blade 17 is almost half the weight again at 6.06 pounds.
For average users, the hefty size of the Razer Blade Pro 17 makes it a hard sell for anyone who needs to carry it around, and it is seemingly more a desktop replacement than a portable workstation.
Razer Blade Pro 17 versus 16-inch MacBook Pro – Processors and Memory
Apple has a choice of three processors available for the 16-inch MacBook Pro. At the low end is a 2.6GHz six-core Core i7-9750H with a maximum clock speed of 4.5GHz under Turbo Boost.
The mid-choice is a 2.3GHz eight-core Core i9-9880H with a turbo boosted 4.8GHz clock speed, while the high-end option is the 2.4GHz eight-core Core i9-9980HK, with a maximum clock speed of 5GHz.
All of the chips offered by Apple are ninth-generation Intel processors, which given the existence of 10th-generation versions in other notebooks, may undergo a similar upgrade at some point.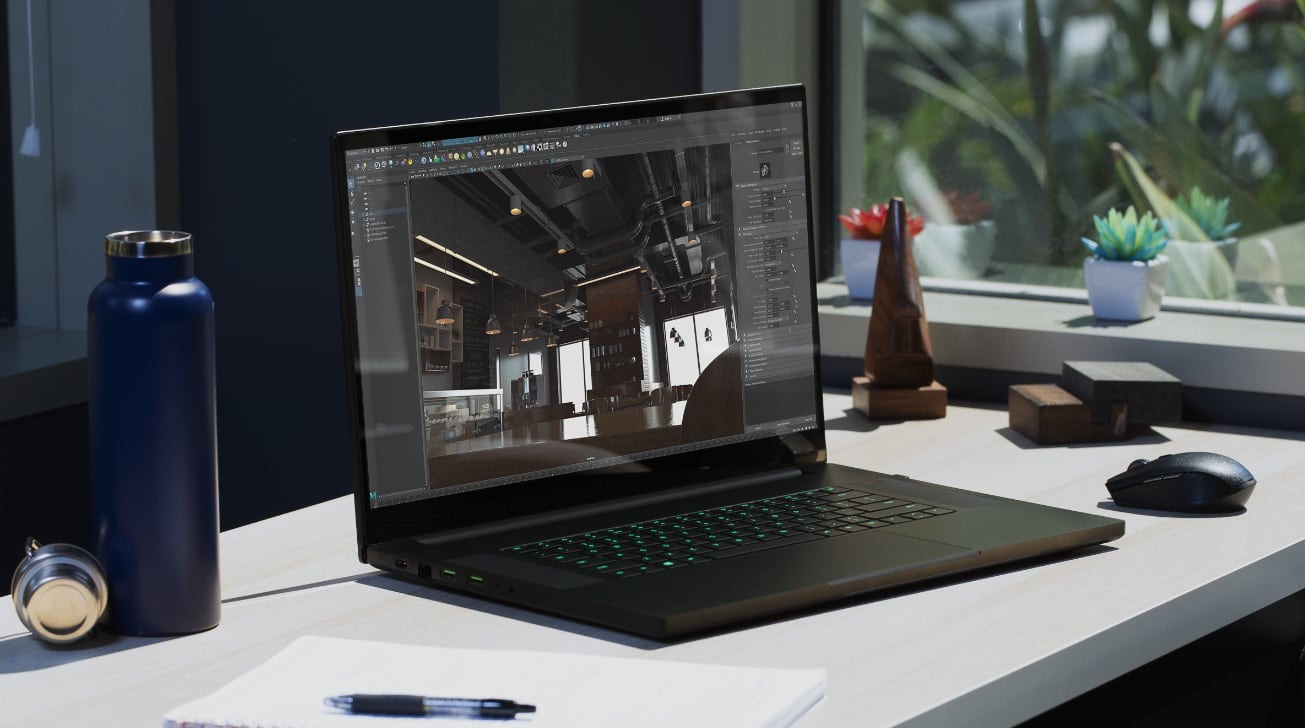 The Razer Blade Pro 17 can be used for professional purposes, not just for gaming.
There are two processors Razer offers with its Blade Pro 17, depending on other configuration options. The lower option is the 2.6GHz Intel Core i7, the same ninth-generation chip that Apple uses in its lowest-specification models, so it is comparable in terms of performance, macOS and Windows aside.
The alternate is a tenth-generation 2.3GHz Core i7-10875H, an eight-core chip that can reach clock speeds of up to 5.1GHz. This is the fastest processor in the comparison, and will only really be beaten by the MacBook Pro if Apple refreshes the processor lineup in the future.
Memory is also a factor for notebook performance, and there is a slight variation between Razer and Apple concerning options.
The 16-inch MacBook Pro can be equipped with 16 gigabytes, 32 gigabytes, or 64 gigabytes of 2,666MHz DDR4 memory. However, customers cannot upgrade the memory after purchase, leaving them to be stuck with their selected RAM until they acquire a new model.
On the Razer side, the Blade Pro is equipped with just one memory option: 16 gigabytes of DDR4 2,933MHz. Unlike Apple, and the Razer Blade Stealth 13, the Blade Pro 17 does have the option to be upgraded after the purchase, and it supports up to 64 gigabytes.
Razer Blade Pro 17 versus 16-inch MacBook Pro – Graphics
Apple uses Intel UHD Graphics 630 in the 16-inch MacBook Pro as its integrated graphics option, but it does so alongside a discrete GPU. Generally speaking, the integrated graphics will be used for normal activities to save on battery, with the discrete GPU employed when more graphical performance is required.
Currently, the selection consists of the Radeon Pro 5300M 4GB, the 5500M 4GB, and the 5500M 8GB.
For the Blade Pro, the lower-tier processor has Intel UHD Graphics 630, and the upper has Intel UHD Graphics, which is better despite the name.
On the discrete GPU list, Razer starts with the Nvidia GeForce RTX 2060 with 6GB of GDDR6 VRAM, with the first upgrade being the GeForce RTX 2070 Max-Q with 8GB GDDR6. At the high-end is the GeForce RTX 2080 Max-Q with 8GB GDDR6, and a new option of the same GPU but with a Super Max-Q design and the same 8GB GDDR6.
A search of PassMark Software's GPU benchmark scores for G3D Mark puts the Radeon Pro 5300M at 5,984 and the 5500M at 6,945 points. The benchmark does not offer a distinction between the 4GB and 8GB variants of the 5500M in its results.
For the GeForce RTX cards, the RTX 2060 achieves 11,460, the RTX 2070 Max-Q reaches 12,386, the RTX 2080 Max-Q hits 14,326, and the Super Max-Q goes up to 15,417.
In short, the performance of the discrete GPUs used by Razer in the Blade Pro is considerably better than those used in the 16-inch MacBook Pro. Again, Apple could catch up by upgrading the GPUs in a future MacBook Pro refresh.
There is always the option for users to go down the route of acquiring an external GPU enclosure and acquiring a better graphics card. This may seem like a good idea, though it is an incredible sacrifice in terms of portability.
Razer Blade Pro 17 versus 16-inch MacBook Pro – Connectivity
On the wireless front, Razer edges out Apple slightly, as it offers the 802.11ax-rebranded Wi-FI 6 compared to 802.11ac. This is a relatively limited benefit, as it does require the use of supportive network equipment to fully take advantage of the extra speed.
Sticking with networking, Razer does include an Ethernet port, allowing for connection to a physical network, something the MacBook Pro cannot do without an extra dongle. Furthermore, the Blade Pro can also communicate at 2.5GB Ethernet, which again is handy if the physical network supports it.
Both also offer Bluetooth 5.0 connectivity as standard.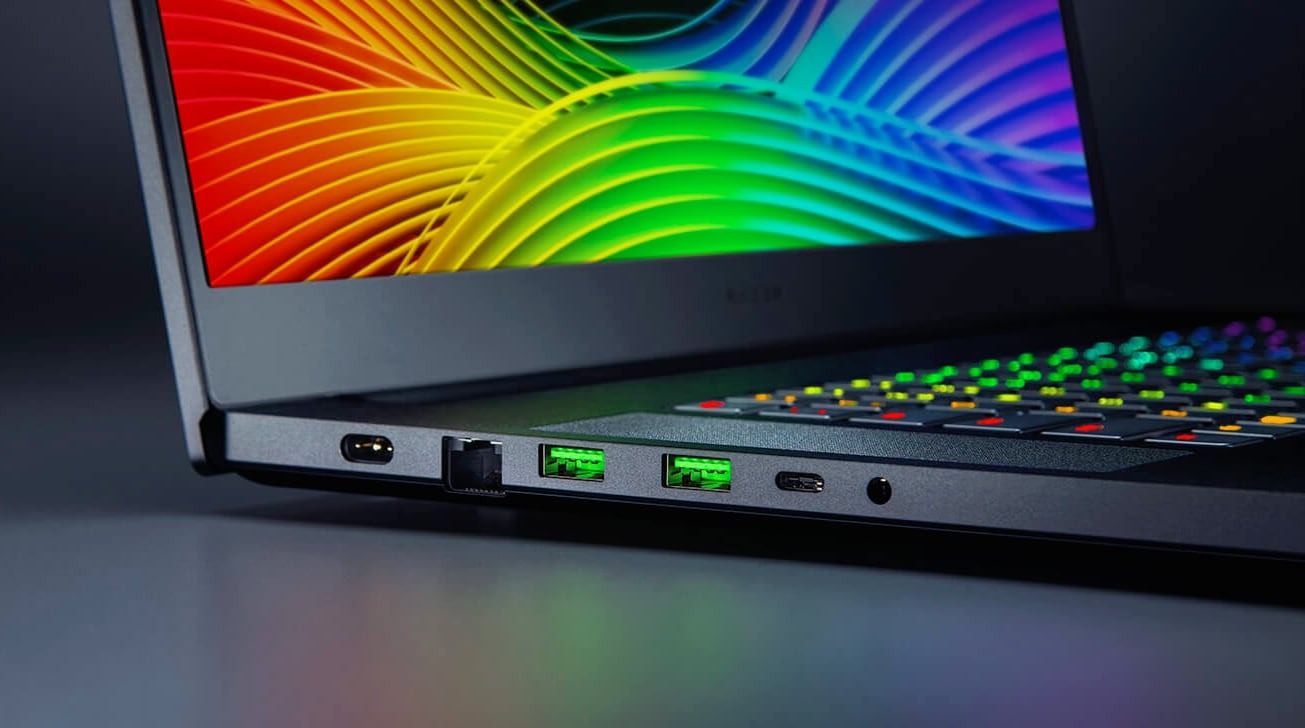 Even the ports of the Razer Blade Pro 17 are tinted Razer-green.
In terms of ports, Apple continues to include four Thunderbolt 3 ports on the 16-inch MacBook Pro, as well as a 3.5mm headphone jack.
The Blade Pro offers one Thunderbolt 3 port, but it also has a variety of other connection options, including a USB-C connection, three USB 3.1 Type-A ports, the aforementioned Ethernet, HDMI 2.0b, a UHS-III SD card reader, and a headphone jack.
While some may see the inclusion of a separate power port as being potentially wasteful on the Blade Pro, it does still free up all of the ports, whereas short of using a dock with power delivery, you have to use up one of the four ports to recharge on the MacBook Pro.
Razer Blade Pro 17 versus 16-inch MacBook Pro – Storage and Upgradability
The storage capacity options Apple provides are extensive, ranging from 512GB to 1TB, 2TB, 4TB, and even 8TB at the high-end. Depending on the starting configuration, users are either going to be equipped with 512GB or 1TB, but have the full range of capacity options to work with.
On the Razer side, it limits itself to 512GB or 1TB, with the latter only being available with an upgrade to the 4K touchscreen.
This is only partially an issue for the Blade Pro, as it does benefit from enabling users to upgrade their storage, with the M.2 slot able to support up to 2 terabytes. This is also completely user-serviceable, using standard M.2 components, though still nowhere near the configurable MacBook Pro capacities at the high end.
The MacBook Pro, meanwhile, doesn't offer any way to upgrade the storage post-purchase, with users stuck with what they ordered until they move on to a newer model. There are workarounds, such as using an external Thunderbolt 3 drive, but this means there's another thing for the person to carry around, which isn't necessarily that desirable.
As mentioned earlier, it is also possible to replace the memory with better components in the Blade Pro, again giving users options to improve performance at a later time. This too is something that isn't available on a MacBook Pro, and there isn't even an alternative like there is for increasing storage.
The Razer Blade Pro 17 offers more post-purchase options to extend its usable life than the MacBook Pro. While it may not be capable of beating what Apple provides in terms of components, the option to replace the parts is still nice to have.
Razer Blade Pro 17 versus 16-inch MacBook Pro – Other Specifications
Both notebooks have 720p webcams, which at a time when video conferencing is relatively important, seems like an underwhelming resolution.
The Blade Pro also includes Windows Hello support in the webcam via the addition of infrared, though only on newer models. The MacBook Pro deals with biometric security using Touch ID on the Touch Bar of the keyboard.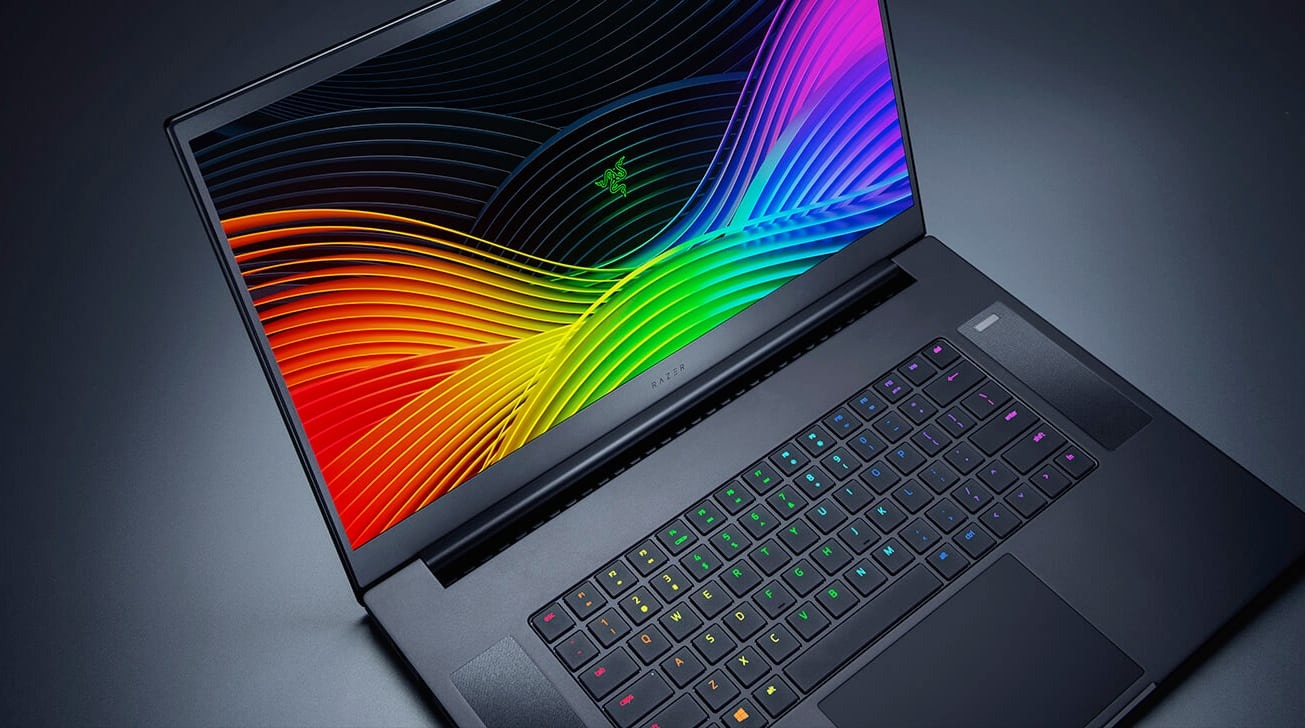 The keyboard of the Razer Blade Pro 17 has individually-lit RGB keys.
The MacBook Pro uses the Magic Keyboard, which uses the new scissor-switch mechanism, and offers basic backlighting. Razer's keyboard is a low-profile mechanical version with anti-ghosting firmware to ensure accurate keystrokes are recorded.
As you would expect from Razer's gaming heritage, the Blade Pro's keyboard has per-key RGB lighting powered by Razer Chroma, enabling each key to be lit differently from a selection of 16.8 billion colors, complete with lighting effects and animations.
Apple uses a six-speaker system with force-canceling woofers in the 16-inch MacBook Pro, offering wide stereo sound and support for Dolby Atmos. For recording, it includes a studio-quality three-mic array with a high signal-to-noise ratio and directional beamforming.
The Blade Pro has stereo speakers with Dolby Atmos support, and an array microphone. When used with the HDMI port, it can output 7.1-channel audio.
Battery life on the MacBook Pro is said to offer up to 11 hours of usage, via its built-in 100-watt-hour lithium-polymer battery. Razer opts for a 70.5-watt-hour lithium-polymer battery, but does not advise of how long it will last under typical usage.
Despite the smaller battery pack, Razer does include a 230-watt power adapter, which could easily outpace Apple's 96-watt USB-C charger in recharging their respective notebooks.
Razer Blade Pro 17 versus 16-inch MacBook Pro – Pricing
Apple offers two base versions of the MacBook Pro. The 2.6GHz Core i7 with 16GB of memory, 512GB of storage, and Radeon Pro 5300M is offered at $2,399, while the 2.3GHz Core i9 with 16GB of RAM, 1TB of storage, and the Radeon Pro 5500M costs $2,799.
In both cases, an upgrade to the 5Ghz Core i9 is available at $300 or $200, depending on the starting configuration, with memory upgrades priced at $400 for 32GB and $800 for 64GB. Upgrading to the next tier up of GPU costs an extra $100 per level.
Storage upgrades also go up in predictable stages, increasing from 512GB to 1TB for $200, then $400 from 1TB to 2TB, $600 going from 2TB to 4TB, and lastly an extra $1,200 on top to shift from 4TB to 8TB.
On Razer's side, the configuration is largely dictated by only a few factors, namely the GPU and the type of display used. Depending on what is chosen, the storage and processor are potentially able to change, with relatively few configuration options available.
For the base GeForce RTX 2060 version with the ninth-generation processor, Full HD 144Hz display, and 512GB of storage, Razer has priced it at $1,999.99. There are no options to change the display at all.
The RTX 2070 Max-Q model is offered with 512GB of storage and Full HD 144Hz, 2040Hz, and 300Hz display options priced at $2,299.99, $2,399.99, and $2,599.99 respectively. Of note is that the processor on the 144Hz and 240Hz versions is ninth-generation, while the 300Hz benefits from having the 10th-gen variant.
Moving to the RTX 2080 Max-Q, Razer offers two versions. The Full HD 240Hz variant has 512GB of memory and costs $2,799.99, while the 4K Touch version has 1TB of storage, and costs $3,699.99. Both models use the ninth-generation processor.
Lastly, the RTX 2020 Super Max-Q variant has the same display options with storage increases as the non-super version, but with 10th-generation processors in both models. It costs $3,199.99 for the Full HD 300Hz model, $3,799.99 for the 4K Touch version.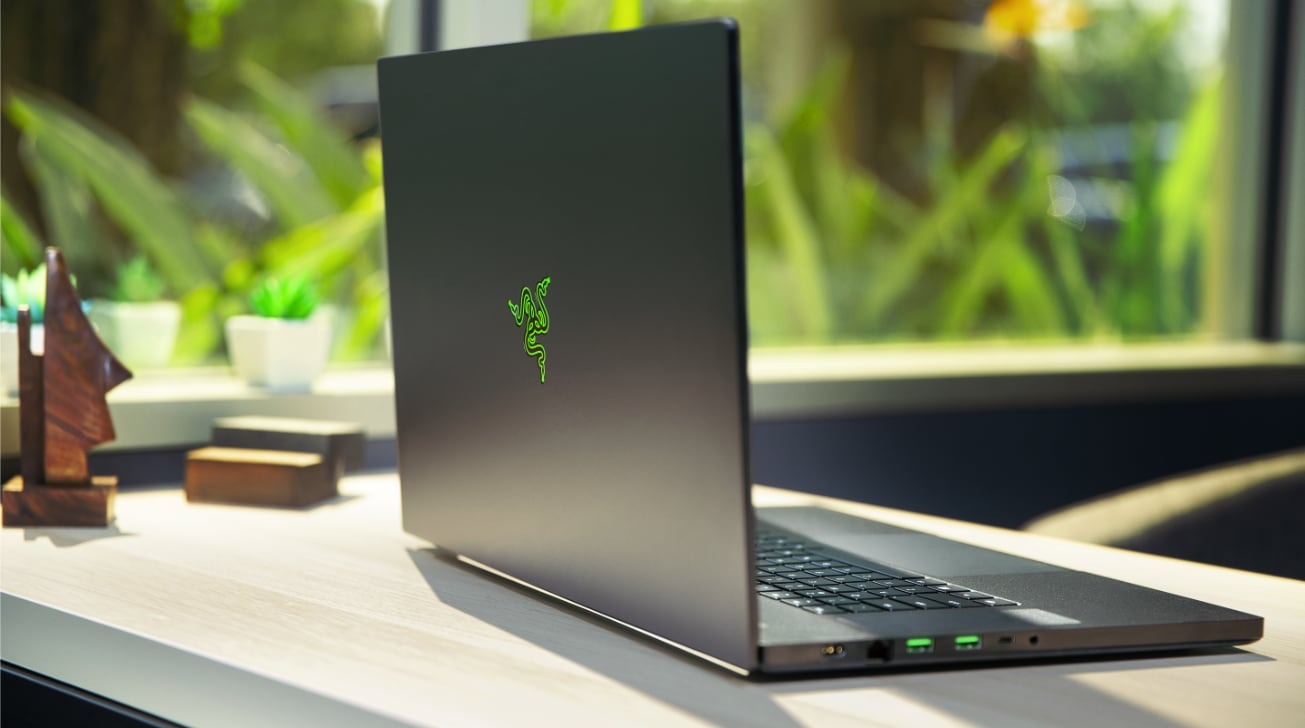 Unlike the Razer Blade Stealth, the Blade Pro doesn't hide it's a Razer product.
Given the differences in GPU and Razer's decisions regarding what specifications it offers in its range, it's relatively difficult to directly compare the two on price for the most part.
In terms of the nearest equivalents, the entry-level MacBook Pro with the fastest GPU upgrade is $600 more than the entry-level Razer, which benefits from having a much faster GPU but is hurt by the lower-resolution display, while having the same processor, RAM, and storage.
Looking at Blade Pro 17 models with 4K for a more comparable display resolution, the cheapest model is the $3,699.99 version with 1TB of storage and the RTX 2080 Max-Q GPU, as well as the ninth-generation processor. Using the same processor on the MacBook Pro as well as upgrading the GPU to the highest model and adding the same amount of storage, the MacBook Pro is considerably cheaper at $2,799.
Powerful, but not Portable
Picking a winner in this comparison is possible, but the result is somewhat nuanced. More specifically, it depends on the needs of the end-user as to which way to go with their purchase.
The Razer Blade Pro 17 is, in the majority of respects, a powerhouse. From its use of tenth-generation Intel processors at the high end to having discrete GPUs that far outperform what Apple uses in the 16-inch MacBook Pro, it's hard to deny that Razer has built a notebook that can handle practically any task thrown at it.
The ability to upgrade the memory and storage is also a major plus for Razer, as unlike the MacBook Pro, it isn't limited to whatever was selected to be put in at the time of purchase.
In Apple's defense, the 16-inch MacBook Pro is still a very capable notebook, offering more performance than most users will ever really need. It's only edge-case users with tasks that require more processing power or a beefier GPU that will opt for the Blade Pro as a no-brainer decision, but even then those same people will still consider the use of an eGPU.
Apple also offers far more configuration options at the time of purchase, and in the case of storage, can provide more than you could even upgrade the Blade Pro with if you tried. For those investing based on their anticipated future needs, it's entirely possible to ignore the upgradability issue by spending more on the MacBook Pro from the outset.
Lastly, of the two, the MacBook Pro is by far the more portable option. Slimmer and almost two thirds the weight of its Razer counterpart, it's the better choice for anyone who needs to get things done while on the move.
The considerable weight of the Blade Pro 17 certainly makes it a desktop replacement, but given how much it can cost to buy at the higher levels, a proper desktop may still be a better option.
Source link