You've long been able to buy an app once and have your entire family use it, but now Apple's brought that to some subscriptions — although with similar limitations and exceptions.
As announced back in June, and finally going live in early December, Apple has introduced the ability to share your subscriptions with your family. It's taken some time to roll out to all users, but it's now available to everyone — with a certain limitation.
That limitation is that it's up to the service provider whether they allow family sharing of subscriptions. Just as with regular app sharing, doubtlessly some will choose to never allow family sharing.
What this family sharing really offers — and doesn't
It's important, though, to understand just exactly what is or isn't being shared here. You may have the Netflix app, for instance, and pay a subscription for it, but that is not and never will be shared in quite this way.
We may usually think of subscriptions as being for apps that are part of services, such as Netflix, or Apple Music. These are all services that have apps.
What the new subscription sharing feature is for, is the kind of app that exists on its own. There's no streaming service associated with it, it is solely an app that gives you extra features for a subscription fee.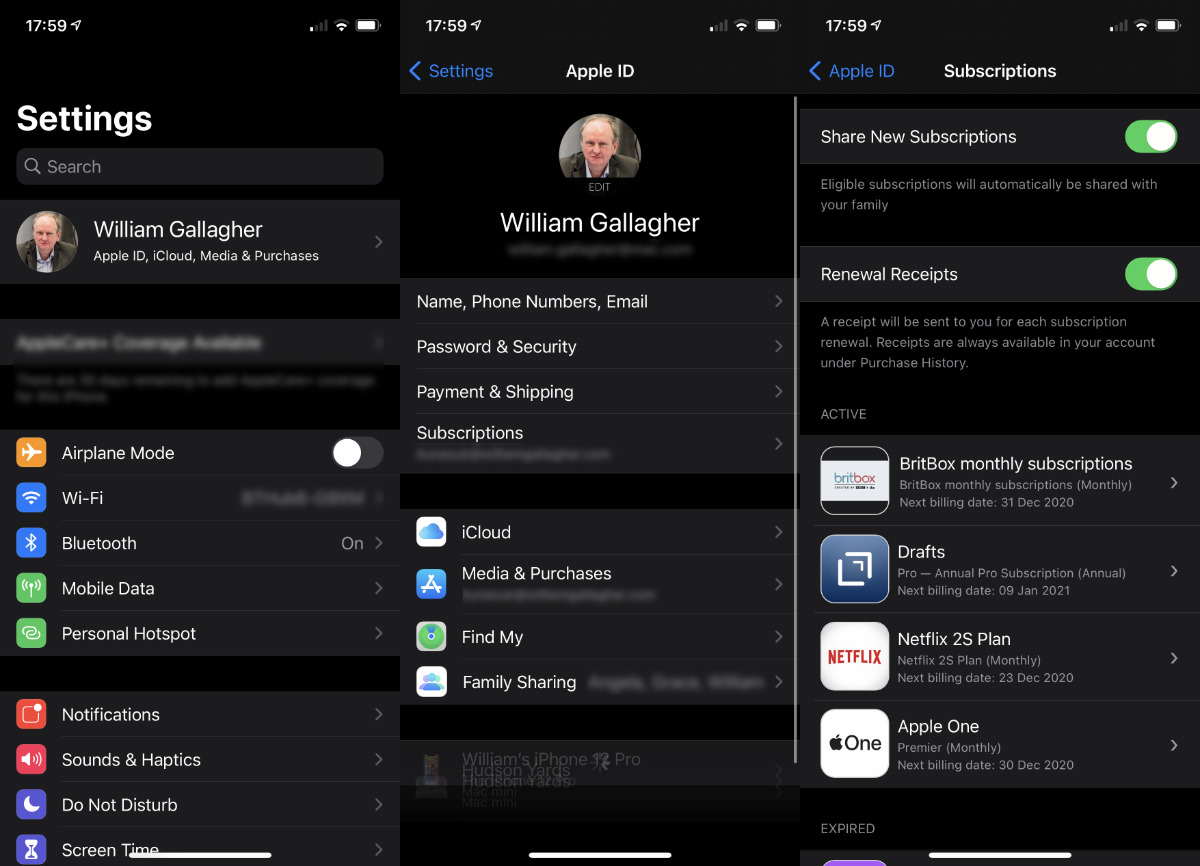 In iOS 14.2 and later, the ability to share subscriptions should be on by default.
No one tells you which app subscriptions can be shared
Developers would surely prefer it if each person in your family paid them a separate subscription fee. So they don't generally shout about the option, and Apple does not tell you about it either.
So far, it appears that you get no notification that family sharing is enabled on your device, or which apps are included if it is. At best, a developer may choose to include that in its release notes as a new version of the update comes out, but you don't get a pop-up notification alerting you.
Here's how to find out whether any of your subscription apps have enabled family sharing. And then how to use it if they have.
See if you have the new subscription sharing yet
On your iPhone running iOS 14.2, or iPad with iPadOS 14.2, go to Settings

Tap on your name at the top

Look for Share New Subscriptions at the very top

It's on by default, but you can toggle it on or off here
You can do the same in macOS Big Sur, but it requires logging in to the Apple Store via the Mac's Music app. That's a hangover from the old iTunes days, and it's cumbersome compared to doing it on iOS 14.
Note that when you have this Share New Subscriptions, it is on by default and all eligible subscriptions are now available to everyone in your family. Except even when you're in Settings and have made sure this is turned on, neither you nor your family get notified of which subscriptions they can use.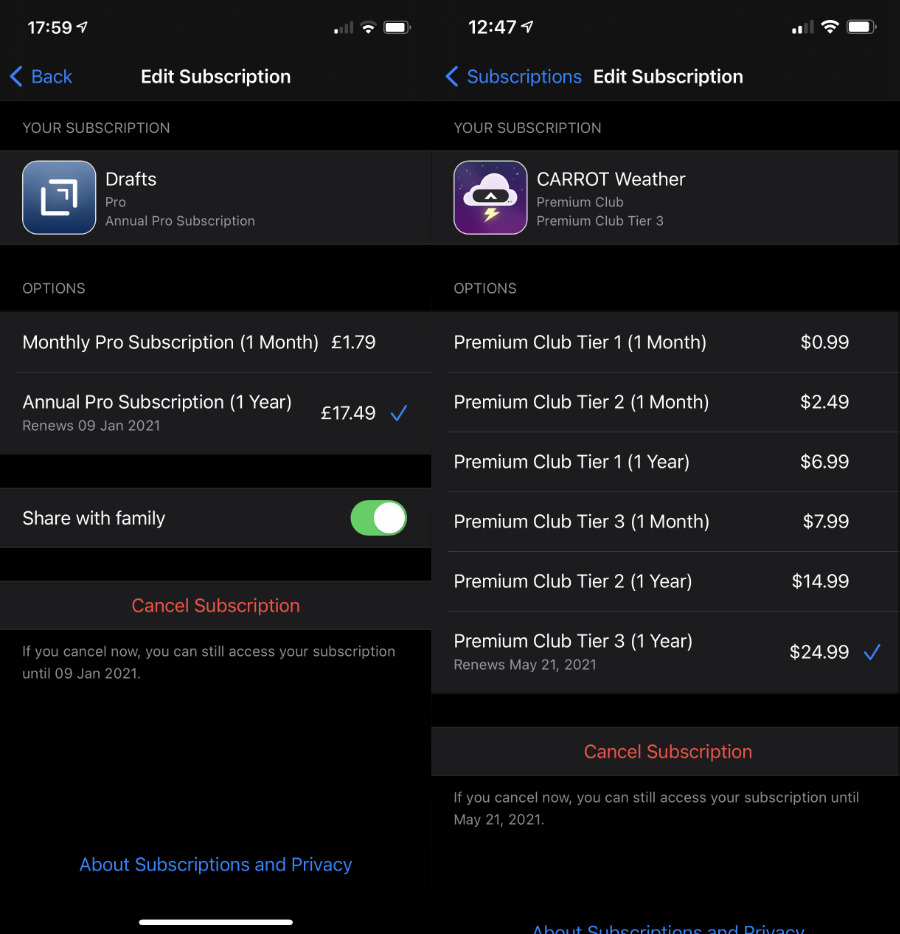 If an app's subscription can be shared, it will says so as with Drafts 5 on left, but not CARROT Weather on right.
Checking which apps and services you can share
On your iPhone or iPad, go to Settings, and tap on your name at the top

Tap on Subscriptions

Scroll down to Active subscriptions

Tap on each one in turn

Look for an option called Share with family
If there's no such option, you can't share it. If there is, it's officially enabled for your family — except that it might not be. It's not clear whether app and service developers have to say they want the feature turned on, but not all are.
Toggle the Share with family on, though, and then you can tell your family what they can use.
The benefits of subscription sharing
Being able to share a subscription is a boon. It makes apps even greater value than before.
It's just like the old app sharing, though. If your subscription app or service enables family sharing, treat it as a nice bonus.
Source link