Ampere's Kickstarter success, the Side Pocket, is one part fanny-pack and one part power bank, combining to make our new favorite bag for hiking, conventions, and errand days.
Yes, you read that right, we're reviewing a fanny-pack. One that not only provides quick access to your stuff, but also keeps your iPhone charged without the hassle of wires, thanks to the included Full Circle power bank
The Side Pocket
The Side Pocket is a fanny-pack/sling bag designed to keep the essentials at hand without being overly bulky. A waterproof polyurethane material covers the exterior, which is ideal if you're planning on using this bag for any extended outdoor activities like hiking, days at the amusement park, or even just a busy errand day. The bag comes in black, navy, and yellow.
There's a surprising amount of storage as the bag has five separate pockets available for use. An easy-access front pouch allows you to grab cash or a favorite credit card in seconds, while the main compartment is surprisingly roomy and includes an RFID blocking pocket for protecting bank cards and passports during travel.
The phone pocket easily fits an iPhone 11 Pro Max and holds your phone in the perfect position to utilize the bag's optional power bank. It also keeps your phone safe and away from keys and other items that could easily scratch it.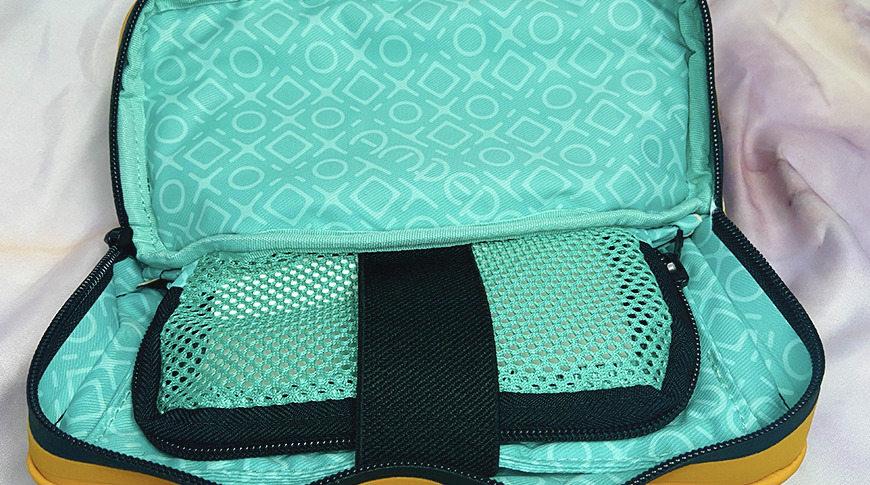 The power bank pocket is accessed from the bottom of the bag, meaning you'll not need to dig around it when you're trying to retrieve your sunglasses or wallet. The pocket also features enough room to store a few extra things that you don't need to continually access, such as charging cables or a small wall adapter.
The Full Circle power bank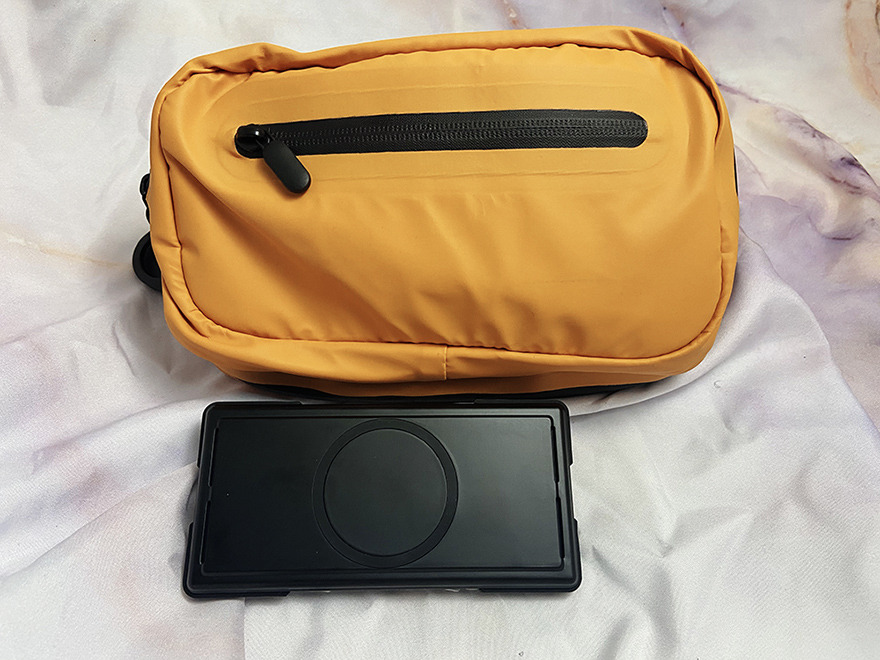 Of course, a wireless charging bag wouldn't be anything without a wireless power bank. Aukey created the Full Circle wireless power bank to fit inside the Side Pocket and wirelessly charge your phone. There's a special pouch inside the power bank pocket that allows you to velcro it in place.
The Full Circle also features three wireless charging coils, making it easy to find the charging sweet spot. The 13,400mAh battery will charge an iPhone 11 to full at least three times, making it an excellent power bank for all-day excursions, even if it's going to be charging multiple phones.
The only major downside is that the angle of the Full Circle charger can be counterintuitive to charging. It has a teardrop design that works well if you're charging your phone in your bag, but less so if you're charging your phone on the table.
Any good knock to the table and your phone will potentially slip off the charger, meaning it's probably not ideal for any area that is routinely explored by kids or pets.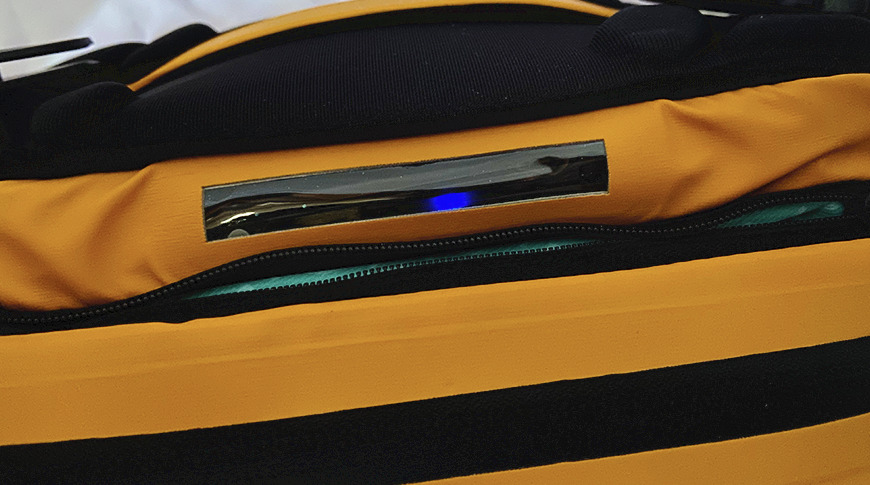 Charge indicatior window
Our favorite feature is the charge indicator on the side of the Full Circle wireless charging bank, one that handily lines up with a clear panel in the Side Pocket. This allows you to quickly check the charge level without removing the power bank, and see when your phone is actively charging.
There's no need to guess or to try to figure out if your phone is charging once you drop it into the pocket.
Rating: 4 out of 5
Overall
The Ampere Side Pocket and Full Circle wireless power bank are a great duo. The bag itself wouldn't be anything to write home about without the convenience of the Full Circle power bank.
The Full Circle power bank is indispensable when used alongside the Side Pocket, though it isn't our favorite for on-desk charging. Together, however, they make one of our favorite wireless charging solutions we've seen.
Ample battery provides all-day power
Plenty of storage space
Worry-free charge indicator window
Teardrop shape of charger allows phone to slip if bumped
Source link