With new iPad Pros rumored to be unveiled soon, and "iPadOS 15" expected to follow closely behind at WWDC 2021, AppleInsider offers a wishlist of what substantial hardware and software refreshes might bring for pro users.
Beyond those upgrades, there hasn't been much else in the way of rumors. But here's a list of what we'd like to see.
Improved external monitor support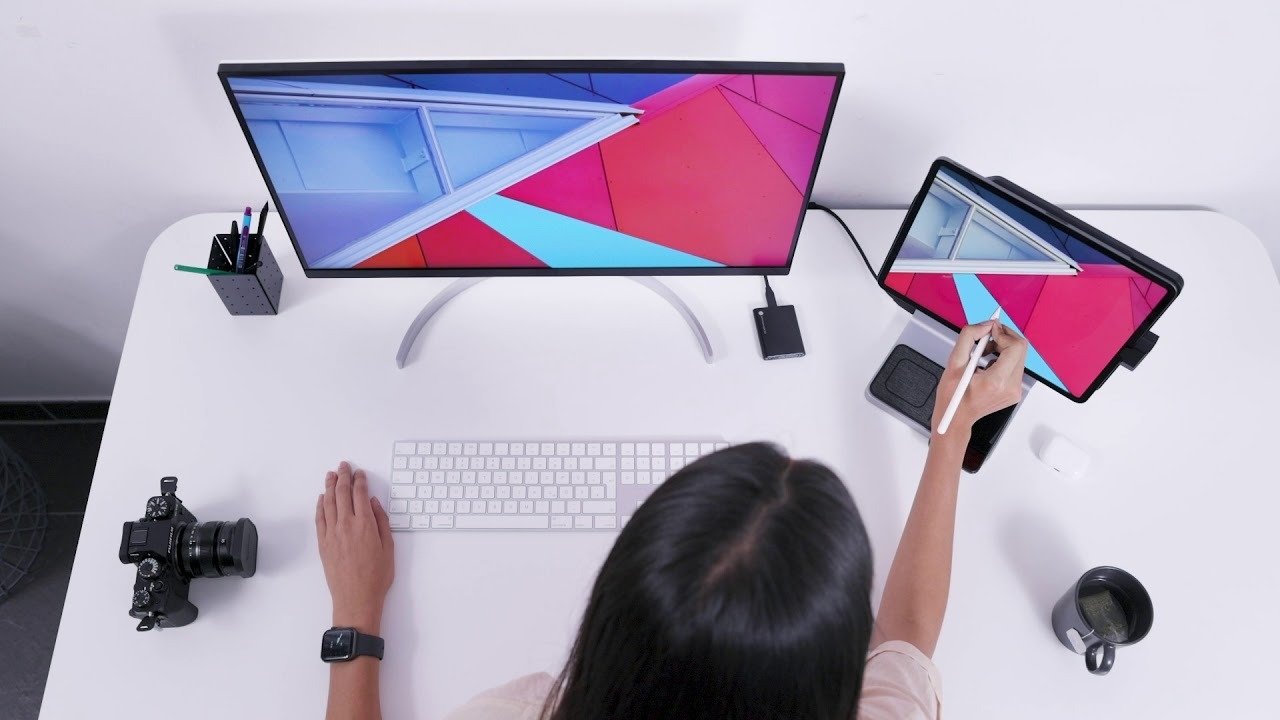 For the iPad to grow into a true PC replacement, it will need to allow users to dock and connect to larger external monitors. Now that iPadOS has gained robust mouse/trackpad and keyboard support, allowing native resolutions on external monitors is the logical next step.
To be clear, iPadOS currently offers support for external monitors, but it is displayed at the same 4:3 picture ratio as the iPad itself. Content on the iPad will expand to fill the screen when apps have support for it — such as when a video is playing — but otherwise the iPad experience on an external screen is limited to a reverse-letterbox view.
As far as we can tell, there is no technical limitation for this. It made sense when the iPad was a touch-only interface and users were required to interact with the tablet itself. But now that virtually any Bluetooth mouse or trackpad can be connected to the iPad, the need to use the iPad's display is diminished, and external displays should be able to expand to show the entire operating system natively.
Of course, this will require some work from developers, who will need to design their apps to scale to different screen sizes and dimensions (most notably 16:9 and 16:10 aspect ratios).
However, with iOS and iPadOS apps running natively on Macs with Apple Silicon, presumably developers will already be incentivized to code their apps for more display sizes. External monitor support for iPad Pro fits in nicely.
Better multitasking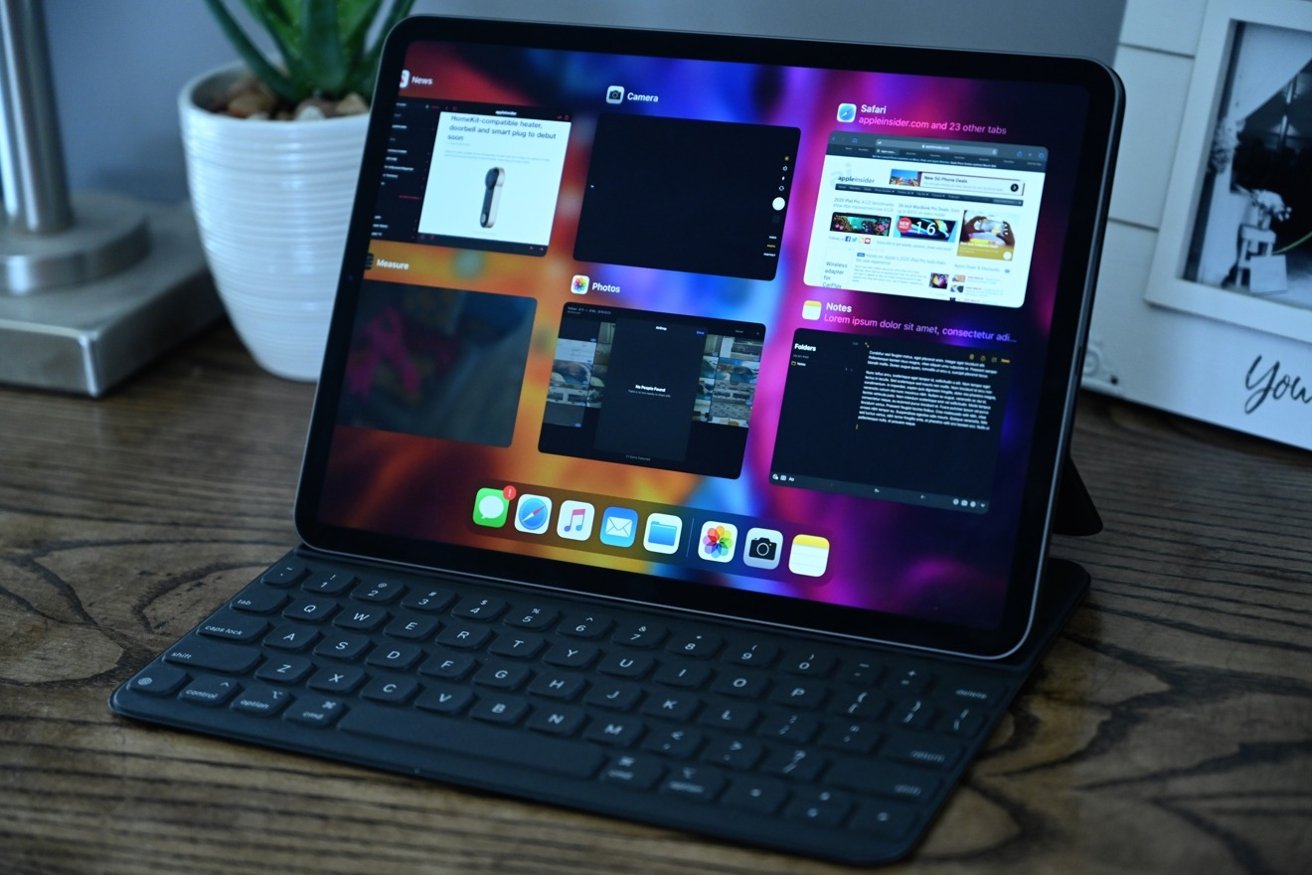 We're not going to fantasy develop for you and create an imagined concept of how multitasking could work better on the iPad Pro. We'll just say that the current system isn't it.
Apple needs to go back to the drawing board once again and rethink the iPadOS multitasking system. At the moment it's clunky and not functional, and certainly not intuitive. It was also designed with touch in mind, making it less suited for mouse and keyboard input.
The process of opening and closing second apps — particularly ones that may not be in the dock — is an obvious candidate for improvement. And for those who prefer using their iPad Pro in portrait mode, it would be nice to have two apps displayed vertically.
Background app refresh also remains a bit of a mystery as to when iPadOS will close an app in the background. For pro users, it would be preferable to gain some control of what apps run in the background, perhaps turning the app switcher into less of a switcher and more of a display of what is actually running and using RAM.
The need for an extra gesture or movement to show the app dock is also unnecessary. Apple should add an option to always display the dock.
And pro users should also be given the ability to remove the "home bar" from the bottom of the screen. Yes, we know where to swipe to return home.
True pro apps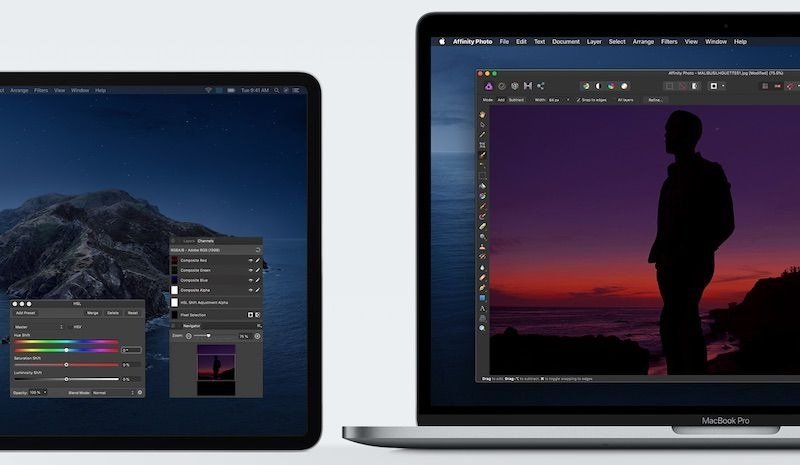 You'll notice that most of what we list here are software limitations. That's because the iPad hardware is pretty powerful and well designed. But on the software front, it feels like Apple hasn't taken the training wheels off yet.
One way of changing that is to bring true pro apps to the iPad Pro. Apple should have full, native and touch-friendly versions of Xcode, Final Cut Pro X, Logic Pro X, Motion, Compressor and MainStage.
Make them all cross-buy on the Mac App Store and iPadOS App Store, allowing pro users on the Mac to migrate over to the iPad Pro and try it out as their main computer.
Apple can't force third-party developers to make their iPadOS apps as feature-rich as their Mac counterparts, however the company can lead by example and showcase the iPad Pro as a destination for true professional-grade apps.
The switch to Apple Silicon, and the availability of iPad apps on macOS, has drawn criticism, with watered down apps designed for touchscreens migrating over to the Mac with minimal changes. That criticism is fair, but it's important to remember that the switch to Apple Silicon is not a one-way door — it also allows for Mac apps to make their way to the iPad more easily.
A more robust file system and Files app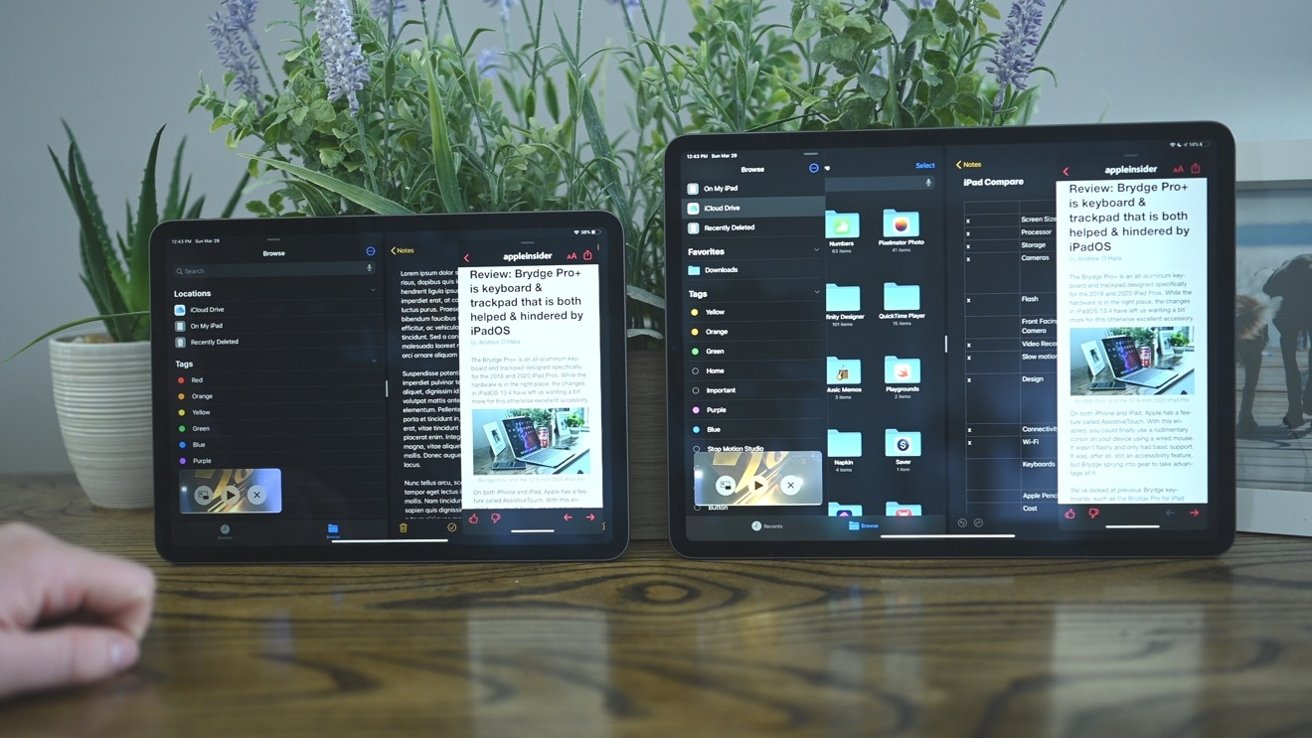 The Files app for iOS and iPadOS was a step in the right direction, but compared to Finder on the Mac, it's severely lacking.
For one, it's buggy. Sometimes seemingly basic actions, like copying files from one location and pasting them in another folder, will completely crash the system, particularly when managing a large number of files.
View options, tagging and file sorting are also short of what's available on the Mac. And why are media files — photos and music — not accessible through the file system?
Files was a great start — when it launched with iPadOS 13 in 2019. Pro users need more features and reliability.
Expanded keyboard and shortcut support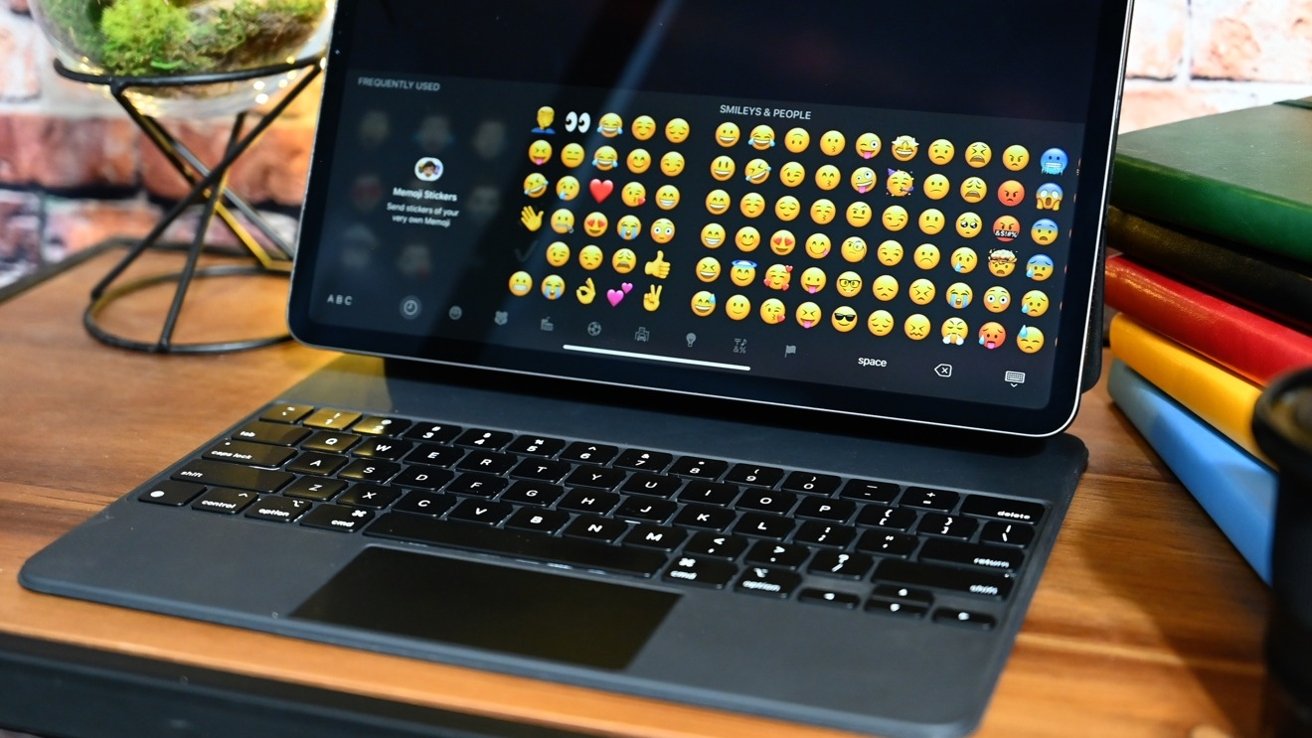 Power users on Mac frequently rely on keyboard shortcuts to quickly access certain functions. Everyone's use case is different, however, which is why macOS has for years offered robust systemwide support for custom keyboard shortcuts, configurable for either a specific app or for all applications.
This is an area where iPadOS is significantly behind macOS, and would make a logical addition for pro users. Bonus points if these shortcuts could expand beyond native OS functions and allow third-party app capabilities.
Perhaps Apple could integrate this functionality into its Shortcuts app, which already has robust support for third-party apps. By adding the ability to create keyboard commands to invoke Shortcuts, Apple could greatly expand power user support in iPadOS.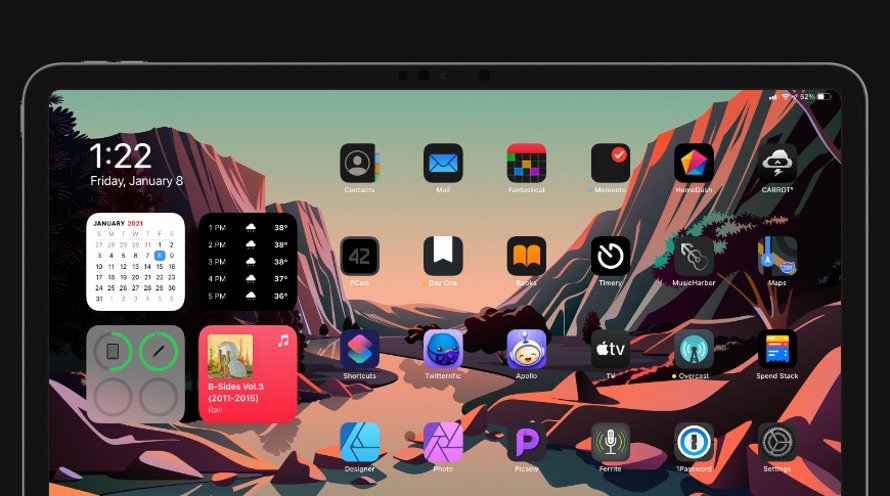 This is something of a no-brainer, as Apple added support for widgets alongside app icons to the iPhone last year. Strangely, despite having more horsepower and a larger display, the iPad Pro has yet to gain this functionality.
This is and others listed here are more of an iPadOS upgrade than something that will be exclusive to a new iPad Pro, but regardless, it's on our wishlist.
Apple Watch integration
Aside from being capable of unlocking your Mac, Apple Watch integration is mostly tied to the iPhone. With all of Apple's hardware now running Apple Silicon and the same underlying code, it makes sense to start bringing down those walls, and to have Apple Watch interface with the iPad.
When your iPad Pro is in range, it would be nice to be able to receive notifications from it on your watch. Users may have different notifications set up on their iPhone and iPad, but receiving both when the iPad is in range would make sense.
We'd also like to be able to set up, customize and manage our Apple Watch from the iPad, so bringing the "Apple Watch" app over from iPhone is another logical addition.
What would you like to see?
Obviously we're just scratching the surface here of where the iPad could go next. We haven't even delved into longstanding Mac capabilities such as multi-user support, or rumors of a Thunderbolt port added to new iPad Pro models. We're curious what you think would make the iPad Pro an even more professional-grade computer replacement. Let us know in the comments or on Twitter at @appleinsider.